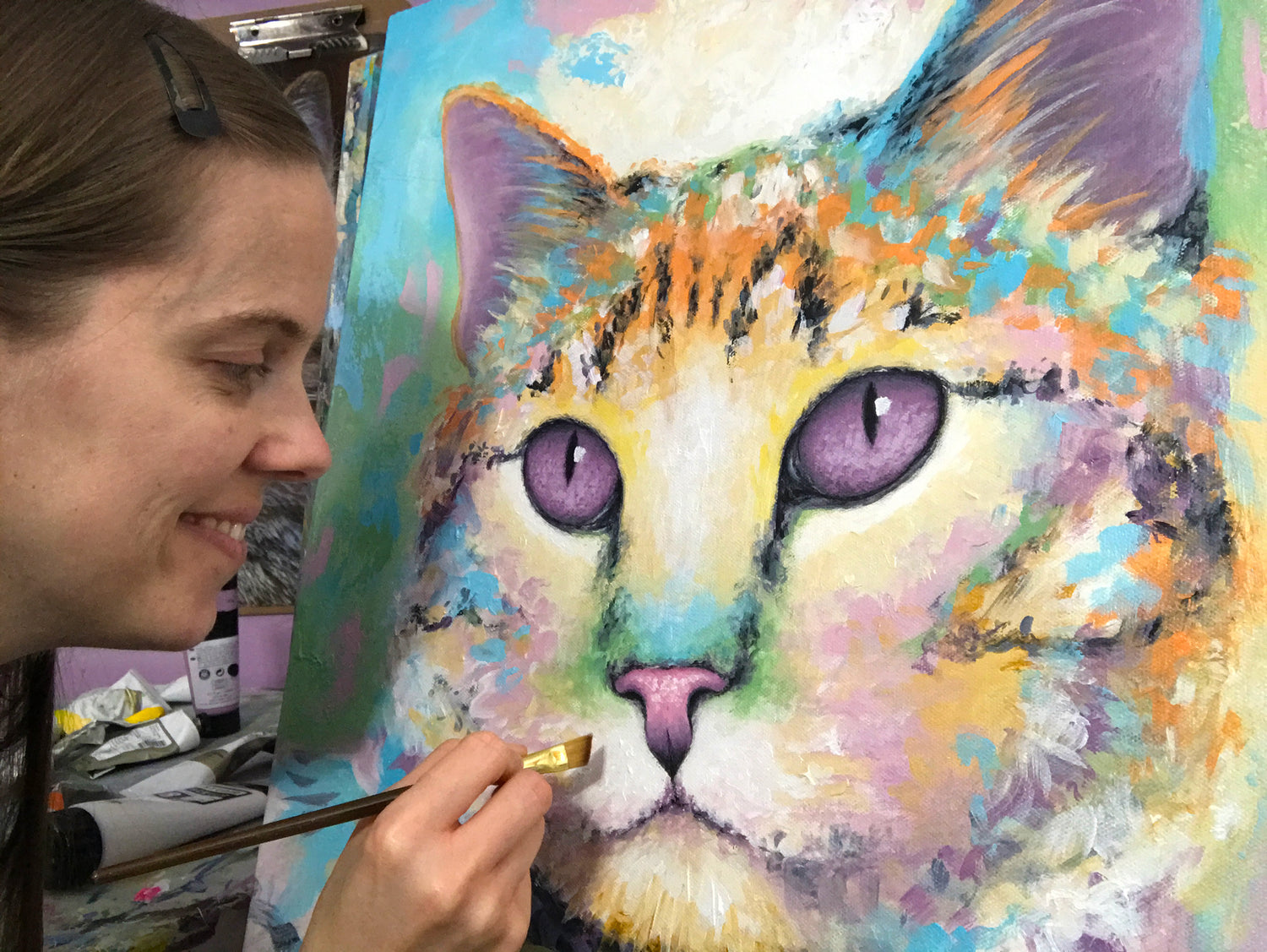 About
I love animals. I've been painting for about 15 years, and have painted over 300 different animals so far. My goal is to paint every type of animal in existence. There are lots of animals, so I have a long way to go!

But honestly, cats are my favorite. I have three cats (Karma, Panda Bear, and Mr. Samadhi), and most of my cat paintings are based upon them. I also have a disability, a genetic disorder called Ehlers-Danlos Syndrome. Basically, this means I have tendinitis in most of my joints. Needless to say, I have bad days. And my cats are always there for me. Years ago, my doctors recommended I do something to destress. So that's why I started painting portraits. I chose my cats as subjects because they're my favorite thing in the world. I quickly developed a real love for painting, almost as much love as I have for cats!
My Mission
I feel blessed to have grown my art business into a full-time career. To be able to do what I love every day, despite my physical condition, makes me feel deeply thankful for my life. It also makes me want to pay it forward to the animals that have been the foundation of my career. There are so many animals starving, homeless, and in animal shelters. My mission is to try my best to help some of them.

Last year, I donated artwork to 9 animal charities to be auctioned off to help animals in need. The nonprofit organizations kept 100% of the proceeds from these sales. This year I'm on track to donate artwork to at least 12 animal charities.
Art Gallery Tour (from 2017)
I live in Wichita, Kansas. I have a home-based studio and show my work at art fairs throughout the midwest. I also used to have an art gallery in Wichita's Towne West Mall, but I had to close it due to Covid and my health.

I'm currently focusing on several bodies of work in various mediums. Variety is the spice of life, and I love to experiment with things in my art practice! So as you browse my website, you'll see abstract paintings and surreal landscapes alongside my animal paintings. 

I paint animals in a colorful style I call visionary impressionism. My visionary impressionist paintings can pretty much be thought of as Impressionism 2.0. I paint the light and movement that I observe with my eyes, like the classical Impressionists did, but I also paint what I feel emotionally and sense intuitively. I kind of like to think I'm opening myself up to their essence and painting animals' souls.

Since each painting focuses on a particular animal, and animals will not hold still for me to look at them while I paint, I begin by photographing them. I enjoy visiting zoos to take these photographs. After I choose the best photo, I print and tape it to my wall so that the animal can "model" for me. Then I paint each painting by hand with the acrylics.
The Making of My Orangutan Painting of Ponji from Sedgwick County Zoo (no sound)
Although I started painting animals exclusively in acrylics, during the pandemic I learned digital painting. And I've grown to really enjoy it. I make digital animal portraits on my iPad using a program called Procreate. It gives you digital paint and paint brushes to use to draw with an Apple Pencil.
Photos with Customers and the Original Paintings They Purchased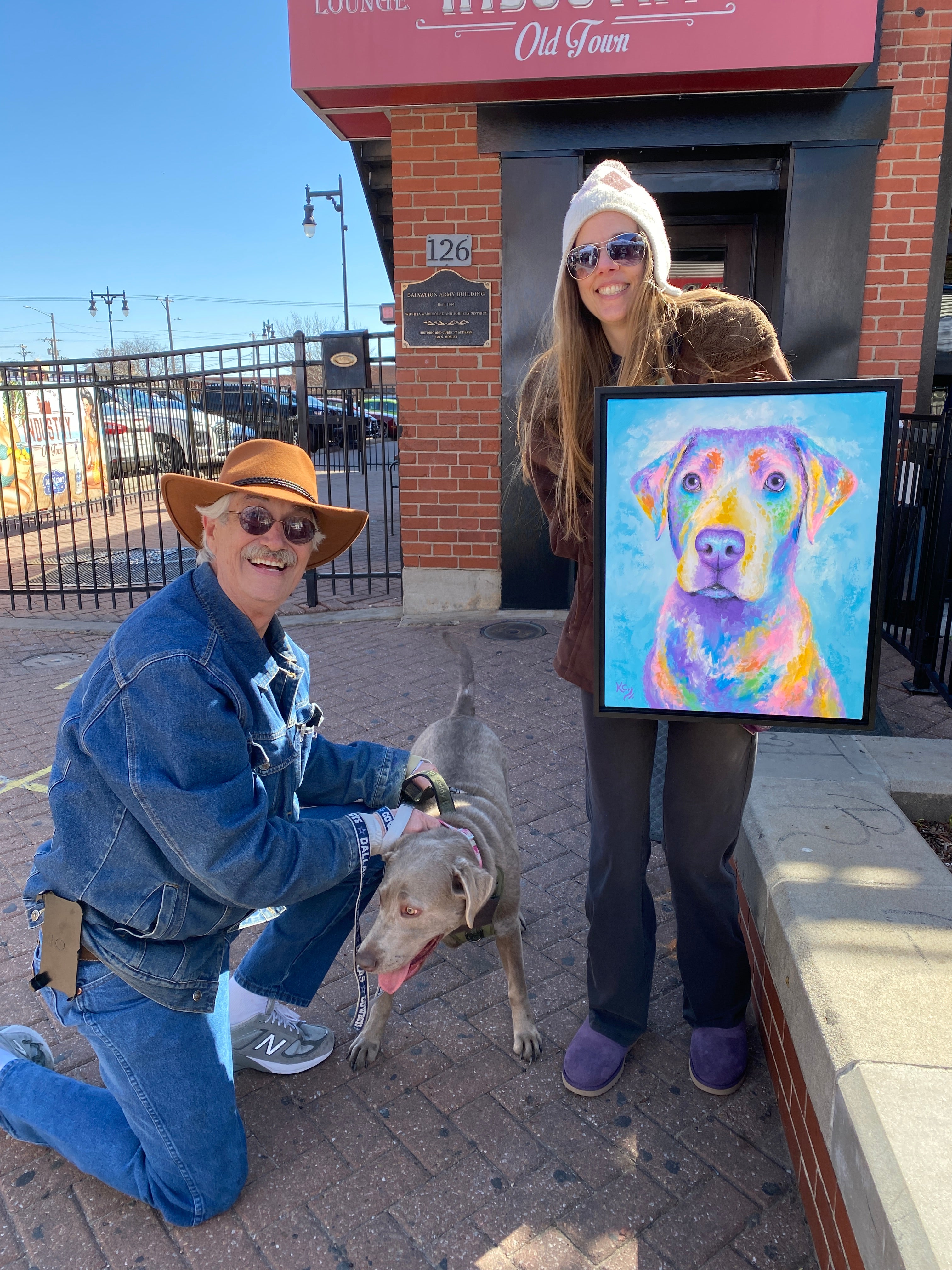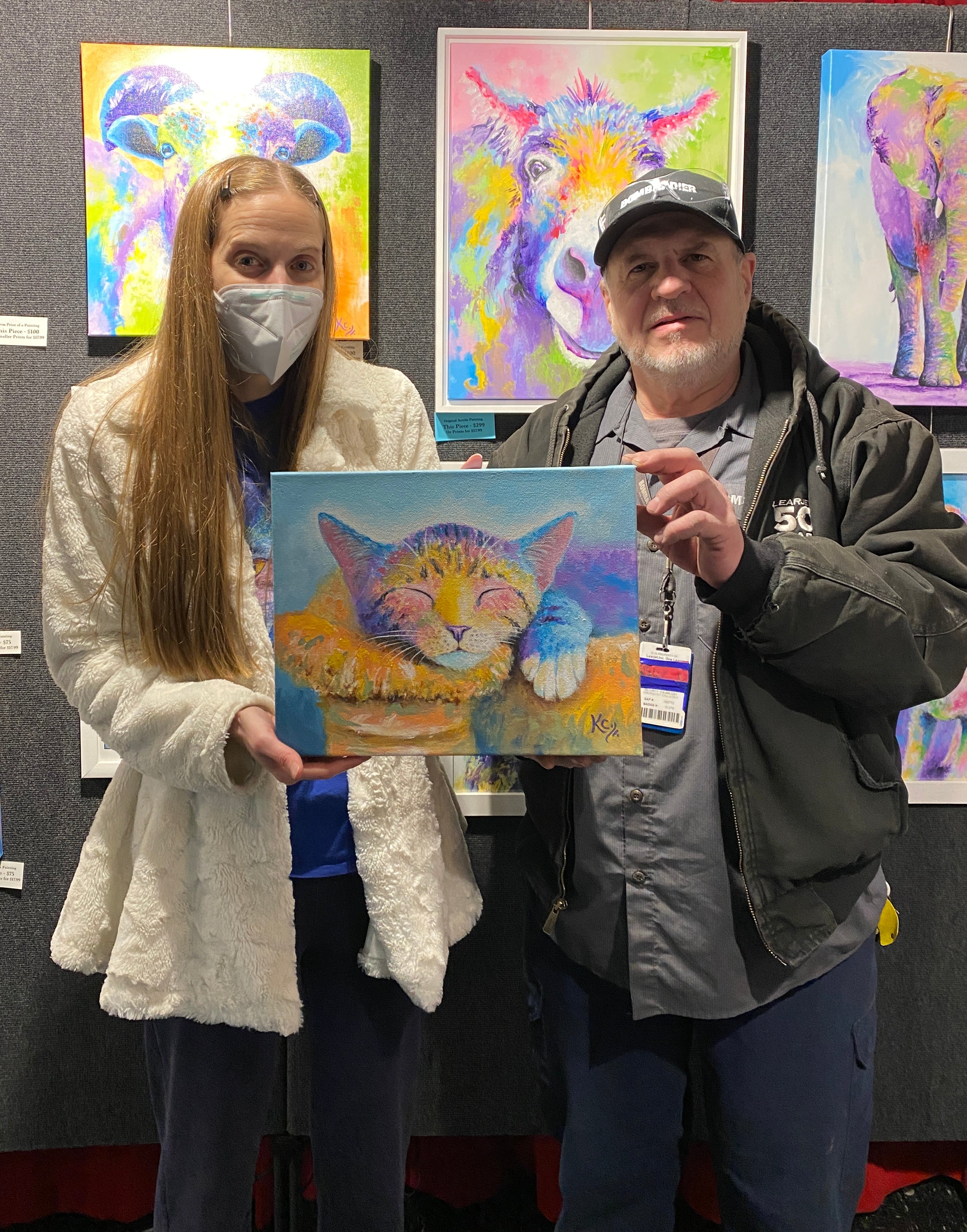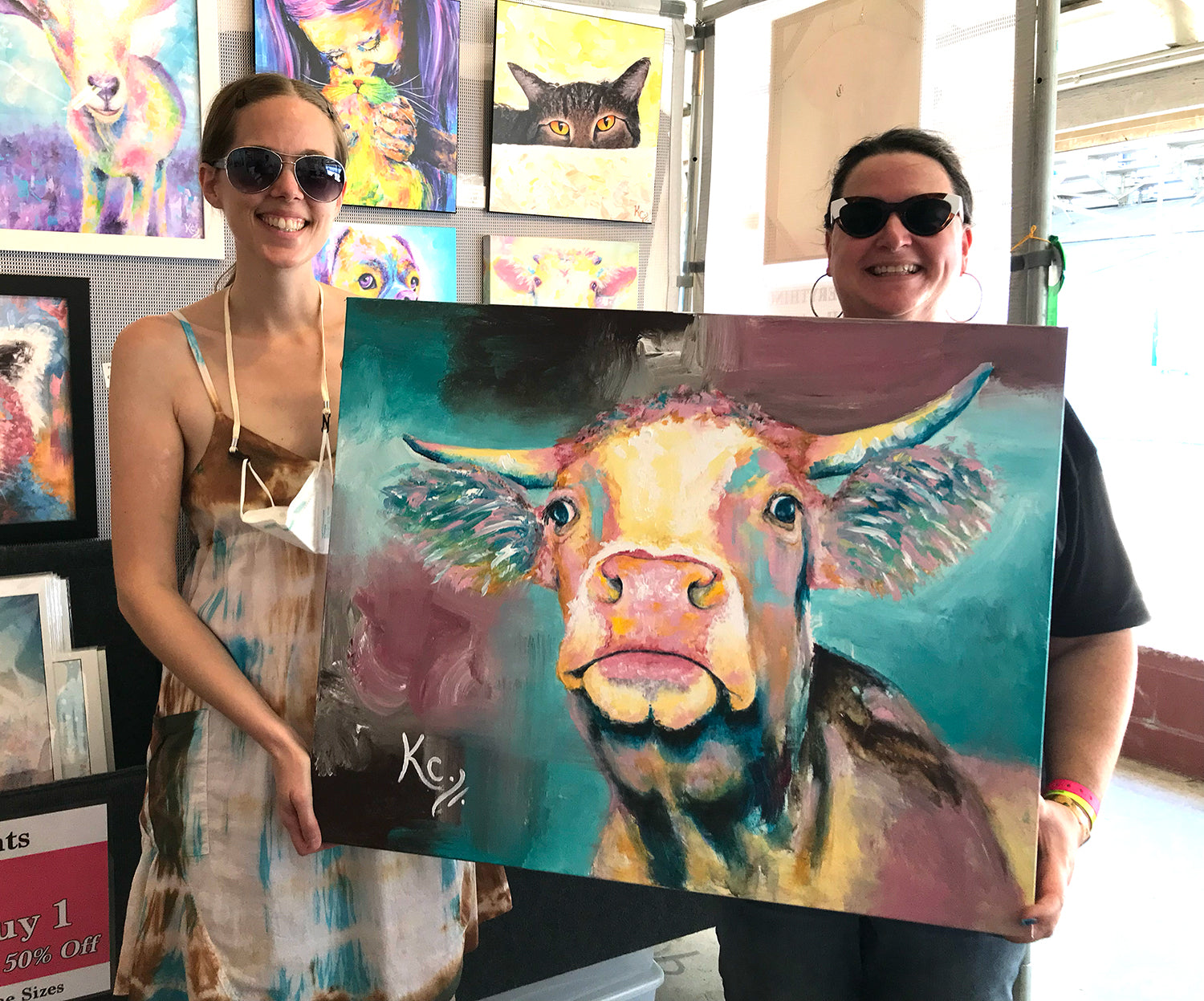 Education, Books, NeuroSoup, & History
In 2000, when I was 18, I earned an Associate of Arts degree in 2-D Design. Later in my twenties, my interest in the human mind grew. So I went back to college, earning a Bachelor's in Substance Abuse Counseling then a Master's in Psychology. During this time, I also wrote several books about my life and the lessons I learned from the use of psychedelics, which mostly took place when I was 18-21 years old.

My first book, Lysergic, was published in 2005. It's on track to be made into a feature film. Watch my interview on Hamiltion's Pharmacopeia and Vice magazine for more backstory on Lysergic and my life back then (filmed in 2011). Lysergic is a combination of things – a story of love, a story of abuse, and a story about the psychedelic experiences that exerted a profound effect upon my life. These experiences were so profound that, even though I no longer use drugs or alcohol and haven't for over 10 years, they've still irrevocably influenced how I see the world. Ultimately, these experiences have also been inspiration for my artwork.
Notably, my book Lysergic was included in an exhibit at the New Museum in New York City, and my painting on the cover of Lysergic entitled "Lysergic Mandala" was featured in an art exhibit in London, England.
Other books I have written include After the Trip and MDMA for PTSD. All can be found on Amazon.
From 2007-2017, I founded and ran a drug harm reduction website called NeuroSoup and made youtube videos sharing my past experiences with using psychedelics for drug harm reduction and education. I shut down NeuroSoup in 2017 so that I could dedicate myself fully to my art career. My old NeuroSoup videos are no longer publicly viewable on YouTube but they can still be viewed on my Patreon with proceeds going to support my mission of helping animals.